Captain
From Hamlet OnLine
The Captain is an officer of the Army of Norway, under the command of Fortinbrasse.
Role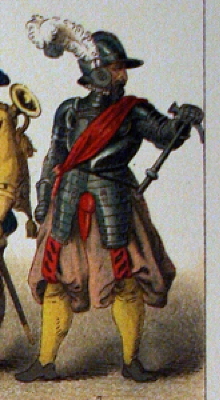 When Fortinbrasse leads the army into Denmark in Scene 15, he dispatches the Captain to get the written permission from Claudius which makes it legal for the foreign army to be in Denmark. The Norwegian Army has landed at the harbor of Elsinore Town, at the same time Hamlet is going to the harbor to board the ship to England. Hamlet meets the Captain, and talks to him.
Costume - A Norwegian captain, very sharp looking.
The illustration is of a French captain in 1600. I do beg your pardon, but I couldn't find a Norwegian.
Name
None. I find no way to deduce his name from the dialogue.
Lines
BOOKMARK
A significant line by the Captain:
Themes and Motifs
(TO ME - redo this according to my current view of the Motifs.)
Themes and motifs most immediate to the Captain's character and dialogue:
duty, enemy, Fortune, honesty, secrecy, spy
He is doing his duty for Fortinbrasse, he's an enemy of Denmark, it's only luck, or fortune that Hamlet meets him, he is not honest in replying to Hamlet, he is engaged in secrecy, and while he's in the Castle, he'll take a careful look at things to report back as Fortinbrasse's spy.
On Stage
The Captain speaks in Scene 15, only, but we can be sure he appears silently with Fortinbrasse in Scene 20.
---
© 2014 Jeffrey Paul Jordan
All rights reserved. See the Copyright page for further information.